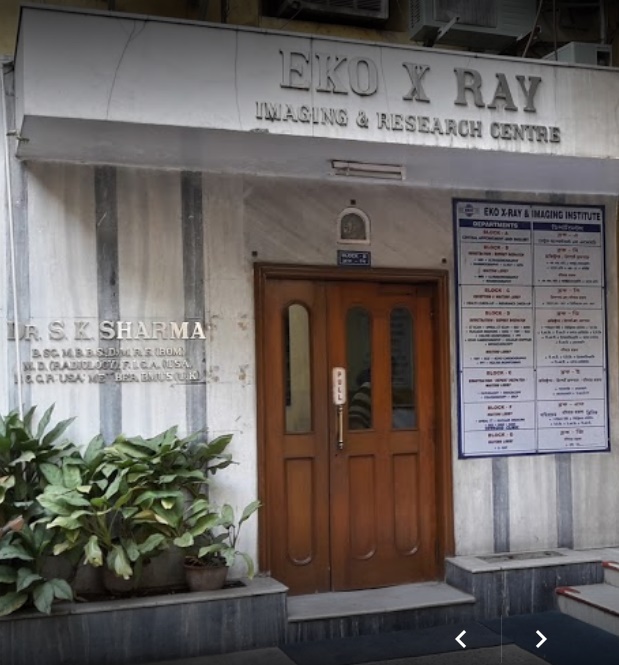 EKO is the epitome representing
blend of modernisation and heritage. EKO's essence lies in the presence of modern technology of medical imaging and diagnostic services envisaged in a building which is over 150 years old, located in the heart of the city.
EKO is known to be the leader in introducing latest technology since inception.
1st High Power X-Ray Unit with II TV in East India Region in 1980 was installed by EKO.
India's 1st ever Real Time Ultrasonography Machine in 1982 (Of ATL USA) was brought in by Dr S K Sharma at EKO.
1stIndia's 2nd and East India Region's 1st Colour Doppler Echocardiography Machine in 1987 installed by EKO.
EKO brought in the 1st Super Power Conductor MRI in 1992 in East India Region.
In the healthcare industry, EKO was the 1st private medical player in India to enter into Public-Private Partnership (PPP) providing high-end medical imaging services at various government facilities, innovating the PPP model in the year 2000.
South Asia's 1st ever 70cm wide bore 3 Tesla MRI equipment in 2008 was installed by EKO.
Evolving from cancer diagnosis, EKO entered into cancer care and treatment in partnership with Health Care Global, Bangalore in 2018 at HCGEKO Cancer Centre, Rajarhat, Kolkata.
1st High Power X-Ray Unit with II TV in East India Region in 1980 was installed by EKO.
CALL US
+91 33 2282 8105
+91 33 2282 8106
+91 33 2282 8109
+91 9433350526
+91 8420626264
+91 9830123817
+91 9433131453

WHATSAPP
YOUR PRESCRIPTION
+91 7439397462

SCAN QR CODE
TO SEND WHATSAPP
Thakurpukur
EKO SGCC AND RI PET SCAN CENTRE.
At Saroj Gupta Cancer Centre & Research Institute.
GR FLOOR, 800 MAHATMA GANDHI ROAD,
THAKURPUKUR CANCER HOSPITAL,
KOLKATA - 700063 PH NO: 9874874241 / 033-24383192 WEST BENGAL
Bhowanipore
EKO CT SCAN DIVISION
At Ramrikdas Haralalka Hospital,
104 Ashutosh Mukherjee Road,
SSKM Hospital, Annex IV,
KOLKATA - 700020
PH NO: 9830516627, 033-24541502
WEST BENGAL
Salt Lake
EKO CT SCAN SERVICES
At Salt Lake Sub Divisional Hospital,
DD-36, Sector 1, Salt Lake,
KOLKATA - 700064.
PH NO: (033) 2986 1255, (033) 2237 3953 / 2237 3369
WEST BENGAL.
Howrah
EKO IMAGING CENTRE
At SHREE JAIN HOSPITAL & RESEARCH CENTRE,
493B/12, G. T. ROAD(S),
SHIBPUR, HOWRAH - 711102
Debojit Paul. Ph: 8777713002
Arijit Nandi. Ph: 7063379577.
WEST BENGAL
Krishnanagar
DR SKS DIAGNOSTIC CENTRE
32, PANDIT LAKSHMI KANTA MITRA ROAD, WORD NO 18,
BEHIND SADAR HOSPITAL KRISHNANAGAR, (NADIA)
PIN: 741101
PH NO: 9434822139 / 7550850871
WEST BENGAL
Kalyani
EKO IMAGING INSTITUTE
A 9/11 (S), KALYANI,
BESIDE SBI (IGC BRANCH)
NADIA, PIN: 741235
PH NO: 9332957687
WEST BENGAL
Bhubaneswar
EKO IMAGING INSTITUTE
KALYANI MARKET COMPLEX,
OPP.SYNDICATE BANK
BHUBANESWAR 751012
PH NO: (0674) 2393368, 2393369
MOBILE: 9937171320,
Ajay Bhuyan - 9437307206,
Brajaraj Mishra – 9937887323
ORISSA.
Bhubaneswar
EKO IMAGING INSTITUTE
S.C.B. Medical College and Hospital,
Manglabag, Mangalabag, Cuttack, Odisha 753007
ORISSA.
Previous
Next
OUR MEDICAL IMAGING AND PATHOLOGY SERVICES
At Head Office located at 54 J.L.Nehru Road, Kolkata, 700071, we are providing the following services