PSMA PET-CT:
OVERVIEW
As you know that, EKO X-Ray & Imaging Institute is the premier Diagnostic Centre in the eastern India. Quality is its hallmark. For more than three decades it has been enjoying the utmost confidence of the doctors and patients.
EKO has bought all essential diagnostic modalities ranging from X-Ray, Ultrasonograhy, CT, MRI, Endoscopy, BMD, Biochemistry and Histopathology, Non invasive cardiology- ECHO, Colour Doppler, TMT, Holter, PFT, EEG, EMG and Nuclear Imaging under one roof. The institute has the habit of continuously updating itself with latest and best in the medical field.
We have installed PET-CT and successful in providing the 18F-FDG imaging for cancer patients for more than two years and we are adding another feather to our cap. We proudly announce the installation of first 68Ge-68Ga generator with fully automated radiopharmaceutical synthesizer in the eastern region which will produce short lived 68-Gallium with a half life of 68 mins. 68-Gallium can be labeled with different pharmaceuticals to synthesize tracers like 68Ga-DOTANOC/TOC/TATE (Peptides) and 68Ga-PSMA which are useful in imaging Neuroendocrine Tumours and prostate cancer respectively.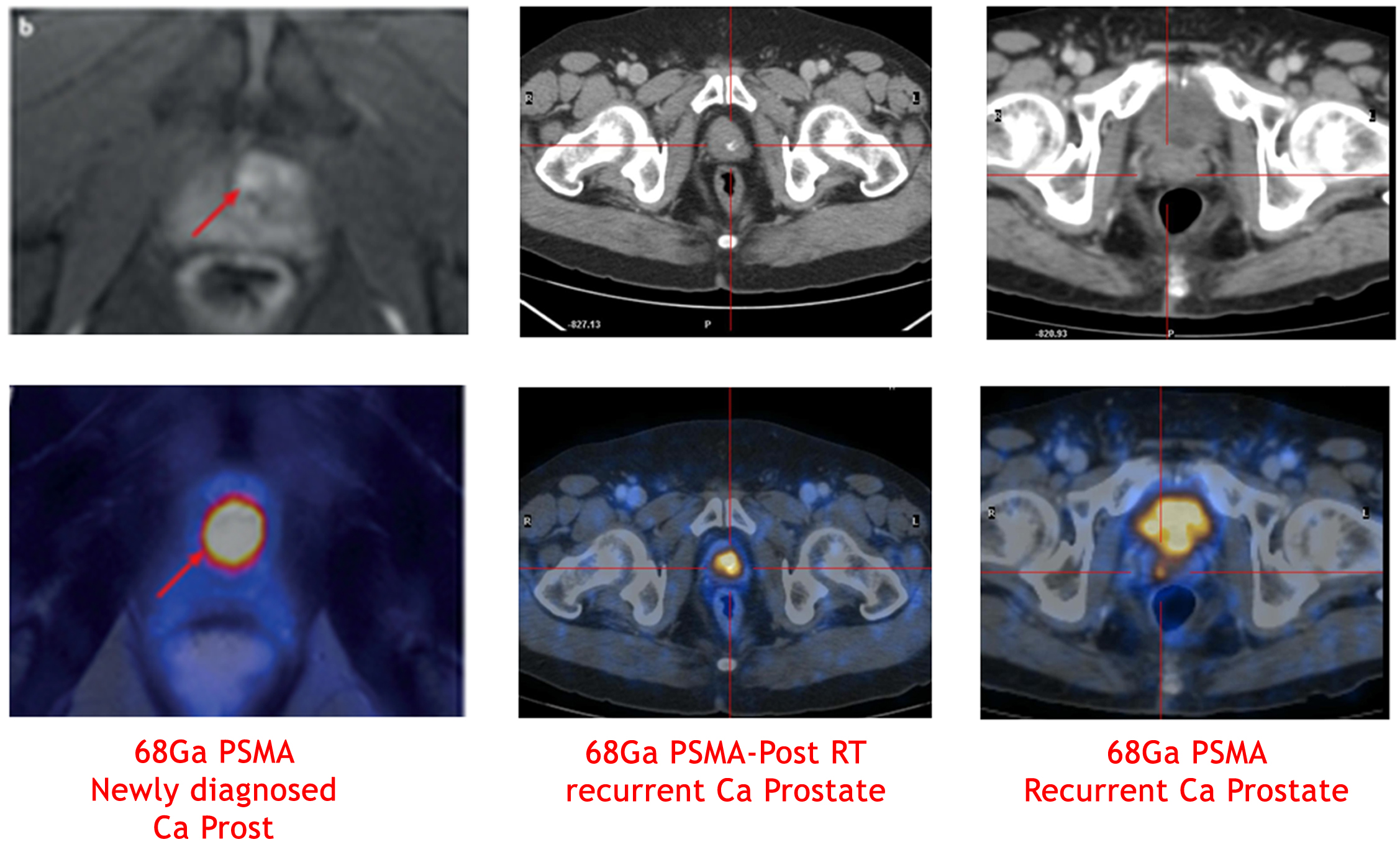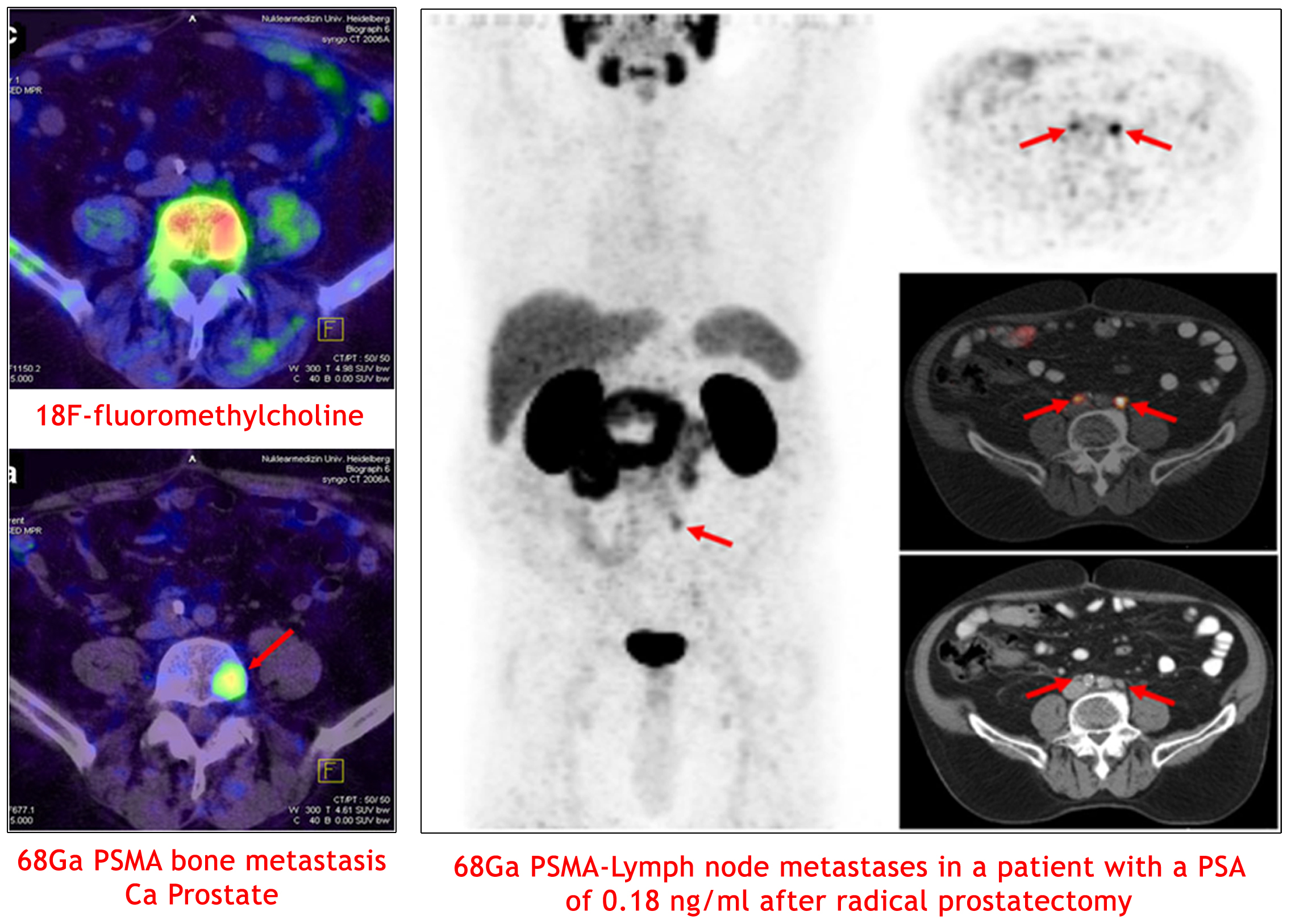 Neuroendocrine tumours (NET) diagnosis has represented a major challenge in the past decades. The introduction of somatostatin receptor scintigraphy in the diagnostic work-up led to a significant improvement of accuracy. However with the advent of positron emission tomography (PET) that presents a higher spatial resolution as compared to the gamma camera and an array of different radiotracers, it is now possible to image NET with an even higher accuracy.
Though 18F-FDG is most commonly used PET-CT radiotracer for cancer imaging but it has limited role in well differentiated Neuroendocrine Tumours (NET) due to their low glucose metabolism and growth rate.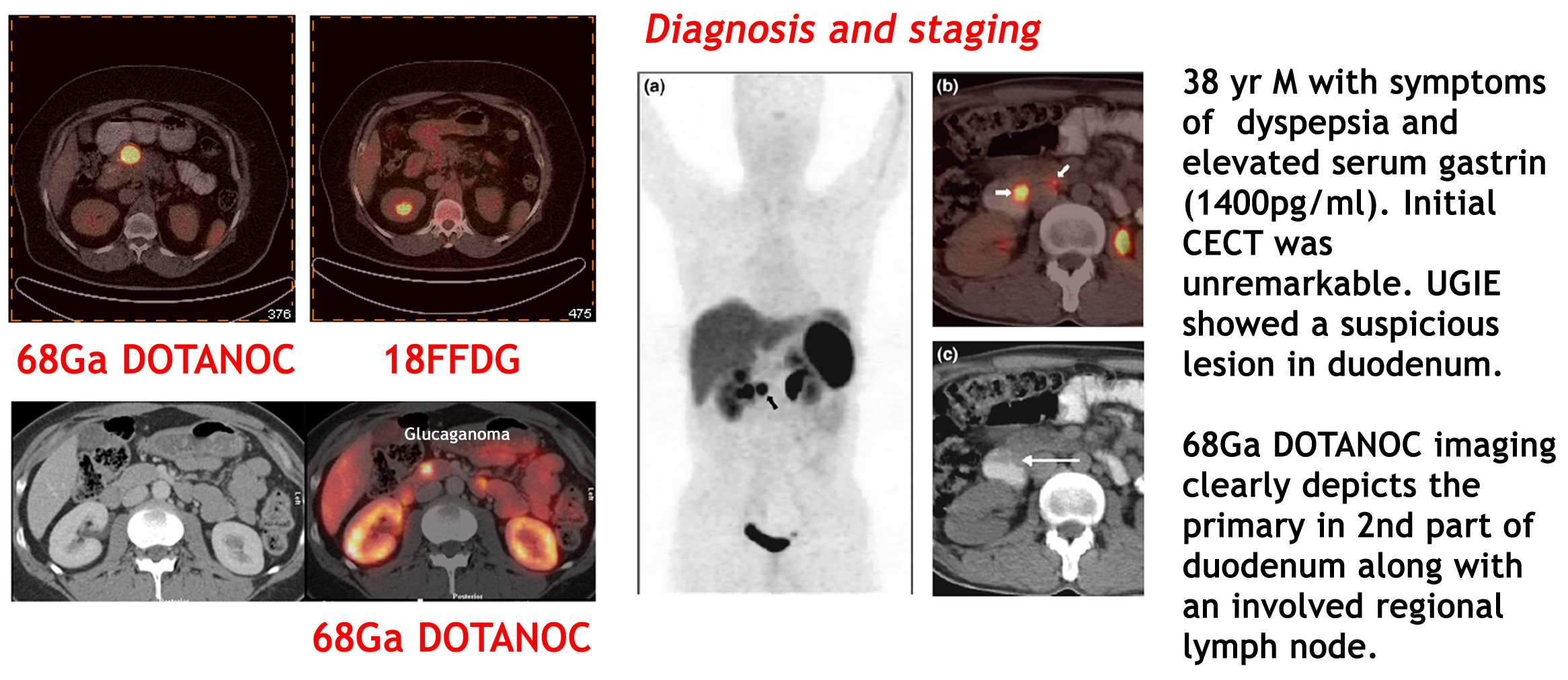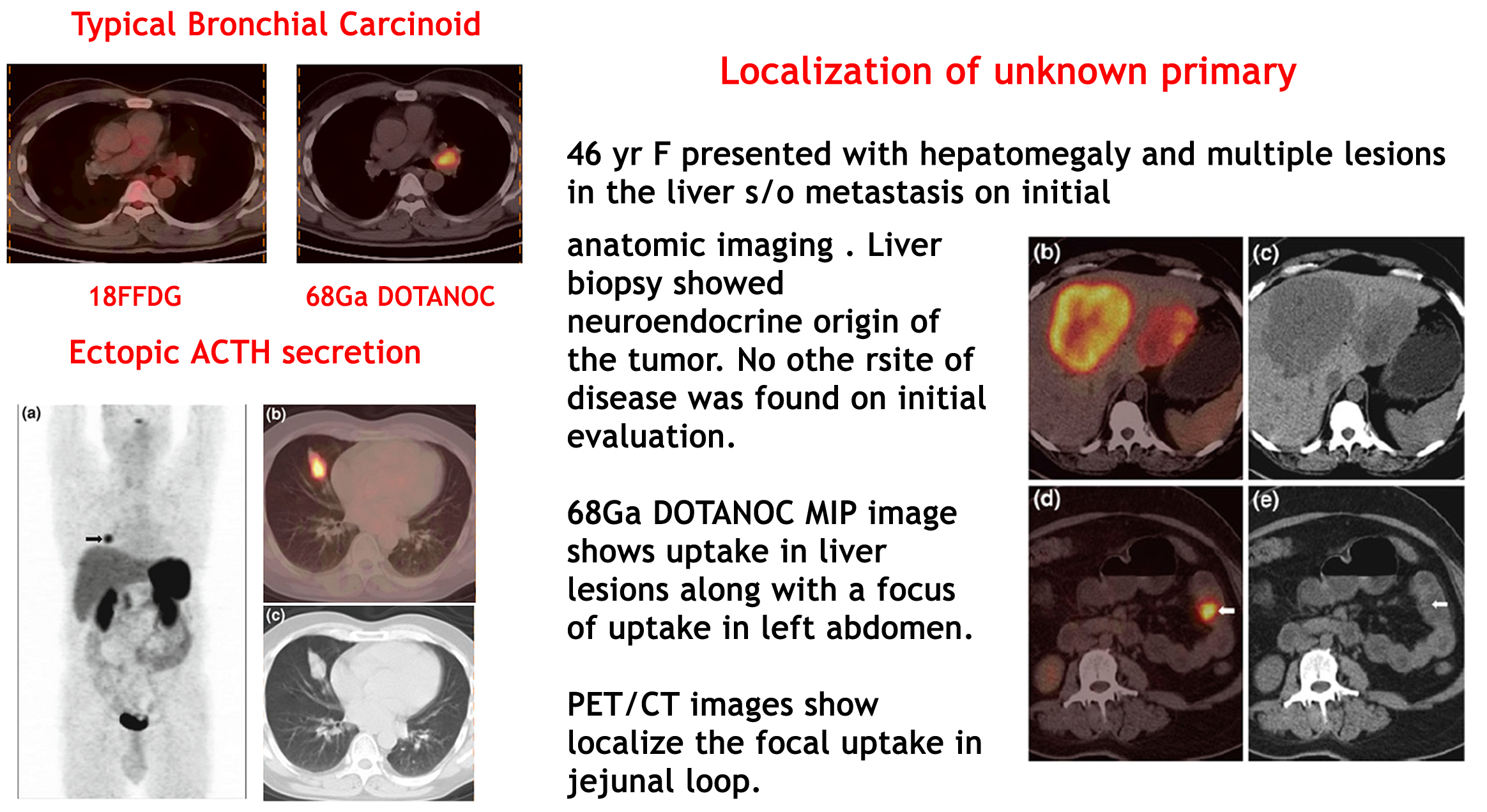 Prostate cancer is the second most frequent cancer and sixth leading cause of cancer death in men worldwide. Though 18F FDG is useful in detecting bone and soft tissue metastases, it has low sensitivity and produced mixed results in prostate cancer as it can vary greatly in growth rate, ranging from slow growing and less aggressively to rapidly disseminating and aggressive. FDG is less useful in detecting primary organ confined prostate cancer, detecting local recurrence after radical prostatectomy and in differentiating post operative scar and local recurrence.
In order to improve prostate cancer imaging, a series of 11C and 18F-labeled Choline and Acetate derivatives have been developed. However these are not cancer specific and less sensitive in detecting small lesions of recurrent prostate cancer, in detecting lymph node metastasis after radical prostatectomy and are not easily available.
Many targeted molecules have tried to improve the prostate cancer imaging accuracy; one among them is prostate specific membrane antigen (PSMA) with great success. PSMA represents a cell surface target suitable for imaging prostate cancer cells as it is expressed by nearly all prostate cancer cells with enhanced expression levels in poorly differentiated, metastatic and hormone refractory carcinomas.
68Ga-PSMA PET-CT is done injecting 68Ga labeled HBED-CC conjugate of the PSMA specific pharmacophore (68Ga-PSMA) which can detect prostate cancer relapse and metastases with high contrast by binding to the extracellular domain of PSMA followed by internalization.
68Ga-PSMA PET-CT is highly sensitive in detecting lesions even at low PSA levels, of even small lymph node metastasis and of central bone and liver metastases due to high tumour tracer uptake and low background uptake and also useful in selecting the patients for 177Lu-PSMA therapy and monitoring the response to therapy.
Once again we proudly announce first 68Ge-68Ga generator with fully automated radiopharmaceutical synthesizer in the eastern region to provide more specific PET-CT cancer imaging and guiding treatment plan in patients with Neuro-endocrine Tumours and Prostate cancer.
Also Visit